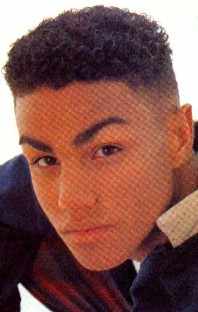 Real Name: Tito Joe Jackson

Stage Name: TJ Jackson
Children : None
Married/or dating : Private
Parents : Same as Taj & Taryll
TJ : Looks like a Younger version of his Father Tito as well .
TJ & his Big Bro Taj Both look like Poppa-T .
Currently Living : Los Angeles , CA

Birthday: July 16, 1978

Age: 27

Astrological Sign: Cancer
Ethnicity : African American & Mexican
Langauage : English & Spanish
Hair Texture & Color : Curly , & dark brown ( Like his Brother Taj )
Eye Color: Brown


Height: 6 feet

Shoe Size: 12

Education: Graduated from the Buckley School in 1996. Took self-study courses in real estate law, real estate finance, and real estate economics.

Siblings: Taj & Taryll

Hobbies: Music, Sports, Movies, Stocks

Pets: 2 Female Dogs - Yabo and Sweet Pee

Other Ambition besides music: Investor, Acting, Entrepreneur (BTW, TJ is a real estate agent also)

Most Embarrassing moment as 3T: Taj hitting fan with microphone during "Anything"

Greatest Moment as 3T: Performing live in front of all the 3T fans in Europe

Favorite Food: French Fries, Pizza, Tacos

Favorite Color: Dark Blue, Grey

Favorite Number: 9

Favorite Snack: Fruit Roll Ups

Favorite TV Show: Fresh Prince of Bel Air

Favorite Movie: Titanic

Favorite Actor: Samuel L. Jackson, Robert de Niro

Favorite Actress: Vivica Fox

Favorite CD: HIStory

Favorite Song: "Man in the Mirror"

Favorite 3T Song: "Anything"
More On TJ : TJ likes to save his money & invest in land & realestate
TJ is the Business mind behing 3T as a group . He is also known to create their Music lable TTT Music in 2000 .
TJ loves learning & Reading about business.
Birthdate and birthday place
7/16/78 Hollywood, CA
What kind of girls don't you like? And why?
All girls are special in their own way
Do you wish a lot of children?
yes . I would like seven kids
Nicknames
TJ, Superman ,& Mi Hijo ( Means My Son in Spanish )

TJs Dislikes:
LA Traffic & Hollywood,CA
TJ Official site

© Copyright of this profile belongs to To The Tee @ 3t.com & Updated by 3TOnline